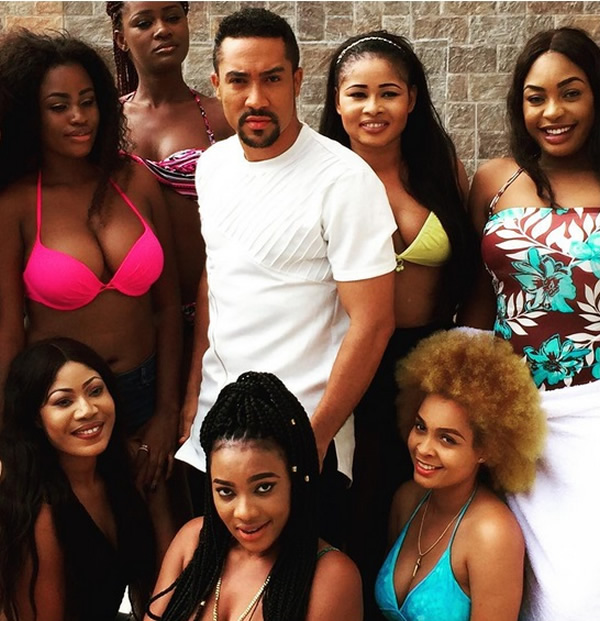 Even though Ghanaian Actor Majid Michel renewed his wedding vows to his wife few weeks ago after 10 years of marriage, he still remains the ladies' man.
The "Agony of Christ" actor who is currently on location shooting a new movie has been spotted in the middle of sexy ladies all in bikini on set.
Majid is sure fighting the temptation from the ladies but guess how.
He bored the ladies with long lecture on how powerful and dangerous Human Will is.
Read Majid's lecture below:
"I was talking to these Beautiful Ladies on a movie we are making directed by @tchidichikere #theLightWillcome About the Power of the Human Will. There is nothing on earth as powerful as the human will. Matter of fact the human will is so powerful that God himself does not control it. Why?…because the very nature of a Will, implies Self Control. GOD gave you the power of FREE WiLL. Your will controls YOUR destiny and your will is Yours. The most dangerous gift God ever gave man was a WILL. And the most precious gift God ever gave man was a WILL. It's dangerous and it's precious. Its precious because God gave you the same power that HE possesses, and it's dangerous because you also have the ability to choose against God. God intended to use the will of man to fulfill HIS will on earth. So God wanted you to use your Will for HIS Will. The only PROBLEM is that a Will gives you the power to choose EVEN against the Will of the one who gave you the Will . #LEADERSHIP #FOURFRONT1602 #FOURFRONT @monsieur_awuro @pascalamanfo @nuella_njubigbo @amarauwakwe @gabibugatti @rahama_sadau @officialchidima @megotanwa @carribeanprincess22"