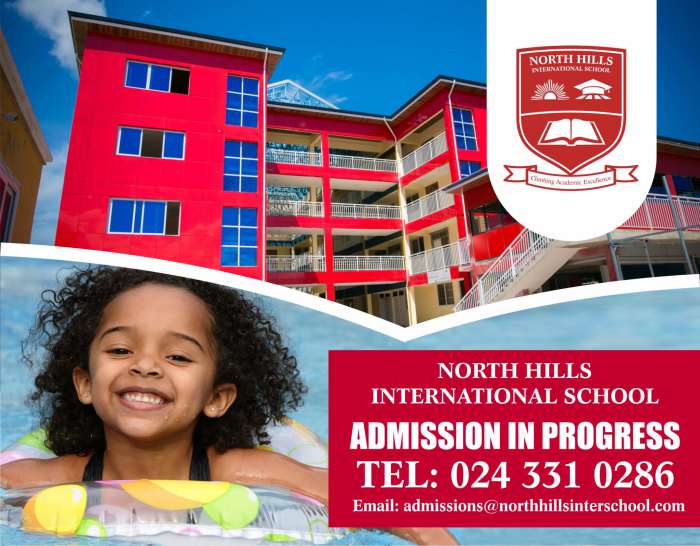 A new ultra-modern school situated at North Legon near the North Legon Hospital in Accra, North Hills International School is admitting students for the next academic year commencing September 2017 —and this is a perfect opportunity to grab one of the limited available slots to secure a brighter future for your children or wards.
The education of a child is not just about enrolling the person into any school, it's about placing the child in a modern educational environment, surrounded by great teachers, facilities and classmates capable of preparing the child for the bigger world.
North Hills International School runs a British and Ghana Education Service (GES) curricular—ensuring that students are equipped with broad knowledge to be able to fit and excel at anywhere they may find themselves in the future.
It's not just about the curricular, the school has highly trained tutors and expensive yet necessary educational facilities that you wouldn't find all in one place at any school in Ghana, even the highly rated ones.
North Hills International School has on campus guarded swimming pool with a professional swimming instructor, a basketball court, a lawn tennis court, a spacious library stocked with needed books, an up to the minute computer lab and a fully equipped colourful playground for Pre-School.
The classrooms are not just conducive for teaching and learning; physical class sizes are super spacious, an administrative cap of a maximum of 12 students per class for the Pre-School and 15 students for the Primary and Junior High School has been instituted—to enable the teachers pay the much-needed attention to each student in a class.
When it comes to North Hills International School, it's a total package—the learning environment is one of a kind, runs two curricular (the British system and GES), the tutors are highly qualified and the available facilities are superb.
The school currently has the following; Pre-School Stage, Primary School and Junior High School–and the school has air-conditioned buses that pick and drop its students daily.
Location: North Legon, Near North Legon Hospital, Accra-Ghana.
Admission is currently in progress and spaces are limited–so Call 0243310286 to Enrol Your Child or Ward Now.
Available Facilities: The Ultra-modern campus has Air Conditioners and Fans in all classrooms, CCTV in Pre-School classrooms and around the campus, well equipped Computer Lab, air conditioned School Buses, fully stocked Library, Swimming Pool, Lawn Tennis Court, Basket Ball Court and a colourful Playground.
Motto: Climbing Academic Excellence
Website: NorthHillsInterSchool.Com
For more info: Call 0243310286
Check out some photos from North Hills International School below…