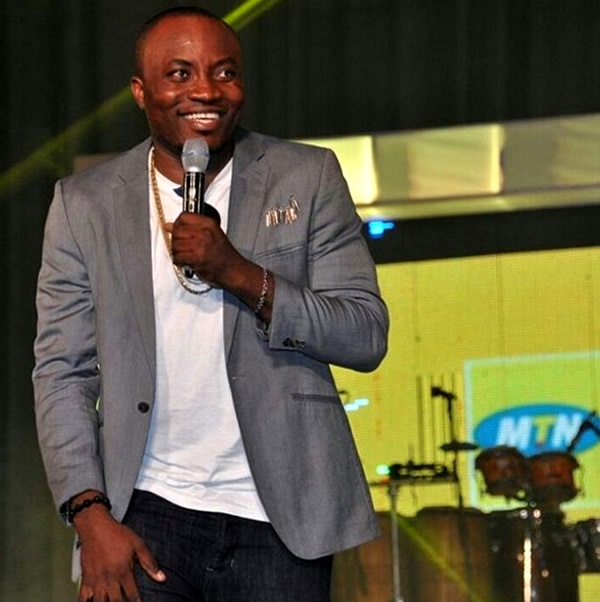 So every 1st day in April gives everyone the freedom to prank people without remorse, in the same vein  Ghana's  comedy king DKB decided to team up with beautiful GHone TV presenter AJ Sarpong to give their  fans a little gossip to munch on for the season.
The execution was done on morning show GHtoday that airs on EIB network GHone Television, just after AJ finished her news scoop DKB decided to change the atmosphere into a romantically charged one by rendering a sweet marriage proposal to her with an emerald ring, which she accepted amidst tears of joy. The believably of the "April fool" prank was when they shared a kiss live on TV.
DKB crowned it all by posting pictures of them on his social media with the caption" she said yes! Glad we made it public now. I love you very much. Oya chop kiss. Social network went buzzing with adorable congratulatory messages with a few doubtful ones. In simple urban parlance, Ghana's internet was broken today by DKB's marriage proposal to AJ prank.
Info desk of Kelvinfnk caught up with DKB and this is what he had to say "I want to thank Ghanaians and the general public for believing and trusting that I'm capable of showing a soft side via proposing to AJ on live TV, I'm really over whelmed by the love from your messages and best wishes.
 He further went on to say ''to be honest, with the affable response I have received, I deeply wish it was true. Once again I am really grateful for the love and support from my fans plus apologies to does who will be disappointed with this news, don't worry it's all fun #Vimyaazo"
DKB has since been busy promoting his monthly comedy show ''Comedy Express"  happening tomorrow Saturday 2nd April at Grand Casamora hotel East Legon. Ticket hotline 0276-121212 for 25Gh.