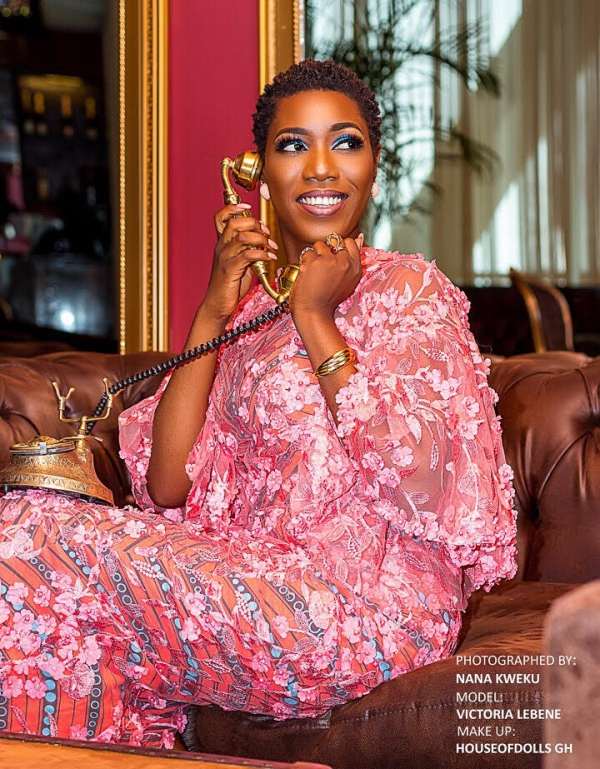 That didn't take long!!! Barely four months after Victoria Lebene ended her relationship with actor Kofi Adjorlolo, she has found love again.
The actress, who had stated she had a thing for older men (they are mature, caring and can think outside the box) after she and Kofi Adjorlolo's romance became public has done an about turn and is now with a younger man.
"I have moved on, I am in love with a young fine gentleman," she said when Showbiz caught up with her at Labone on Monday.
In defence of why she went for a younger man, Victoria explained, "It is not like I am into older men so by hook or crook I need someone older. Love is love and it can be found anywhere, this time around, I found it in a young man."
She describes her man as very mature and understanding. "He understands the business I am in and he is someone who will not come complaining that I did this or that, this was said and written about me, I took a photo with this person and all that. He is cool with what I am doing so far as showbiz is concerned," she added.
For someone who had professed her love for Kofi Adjorlolo, 40 years her senior and had even cried when critics like controversial Counsellor George Lutterodt had asked her to leave the man alone, it seems it was very easy for her to move on.
But she tells Showbiz, she had psychologically let go before she officially ended their relationship.
"I had moved on and worked on myself mentally the moment my dad got serious and told me he didn't want me to be with Kofi. I am a strong person and I believe in positivity so things that I have control of, I deal with it but if I don't, I just let it go and life goes on."
Breakups, no matter how amicable can take a toll on both parties and it is normally recommended that couples take a while before jumping into new relationships. So with her quick jump into a new partnership, Victoria would have to address issues of cheating but she emphatically denies it.
"No! Far from that. I was not seeing the new guy while I was with Kofi. I met this guy after we broke up. In fact, I don't want to talk about Kofi, he is past," she noted.
Moving on to other issues, Victoria talks about how her strict upbringing has impacted her life with her dad not giving room for any rebellious acts. This, she says, helped her do well academically.
Due to how strict her dad was, the Bitter Sweet Wine actress says she did not have it easy when she posted her semi nude photos on social media.
"My dad was disappointed in me, he did not take it lightly at all and his response made me feel very bad. I eventually had to take the pictures down."
Victoria was a contestant on the Next Movie Star in 2014 and has appeared in films like Ultimate Story, Trapped in a Cage, The Storm and After the Sunset.
Watch full interview below:
Source: Graphic Showbiz