It seems the graduate from the Kwame Nkrumah University of Science of Technology (KNUST) who was scorned by actor, John Dumelo for selling bread on the street is not really bothered by the actor's words.
Dumelo posted on his Instagram page a photo of the KNUST graduate, Godfred Obeng Boateng selling bread on the street and wrote: "Just saw a KNUST grad hawking in traffic…What went wrong?" Some Ghanaians, however, descended heavily on Dumelo over the post.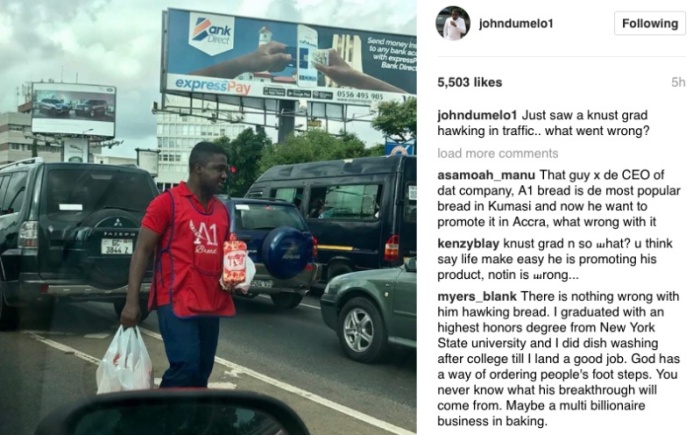 Musician A-Plus who was angry over the post charged Dumelo to take it down.
"I'm angry!!! Every day I post my opinion. Today I'm posting my anger. John Dumelo remove this post from Instagram now!!! A bread seller is a human being. You can't just take pictures of people and post it on your page for attention. A bread seller has right which must be respected. A bread seller is better than an armed robber!!! A bread seller is better than a drug dealer!!! It's better for a person to hawk on the streets than to indulge in crime. I'm looking for this bread seller. John Dumelo must apologise to him. Or prepare for a legal battle!!!" he posted on his Facebook wall.
Meanwhile speaking to Citi Showbiz, Mr. Boateng who is also the Chief Executive Officer of bakery company, A1 Bread, said he is not bothered at all.
"I'm really busy, working. The dog will bark but then the caravan will park, I'm just busy selling and I know I have confidence." Boateng explained that every human is unique and that there are different paths to success.
"No one should be called upon what society thinks they should do. Some people are very good with office work and others are good with the hard way. You can't force people to do business when they don't have the interest," he remarked.
Watch his interview below: