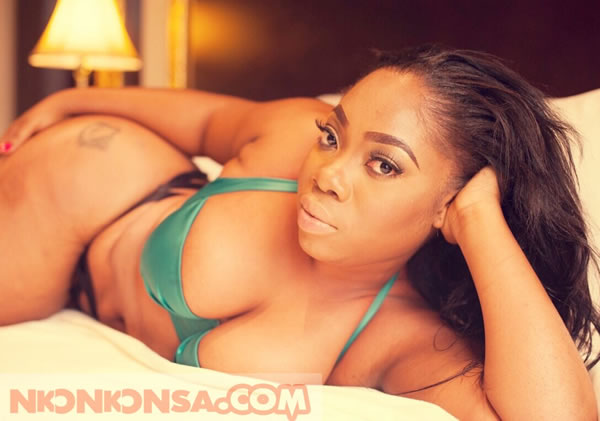 Sensational Ghanaian actress may not be known for her movie roles but there is one thing about her that cannot go unnoticed, her body.
Moesha has a very curvy body especially her big butt and she has never been shy from showing it off and this time she's gone all out.
The actress whose private naked picture was rumored to have leaked earlier on in the week has spoken to Nkonkonsa.com. Moesha denied the rumors insisting that the said picture was part of a new photoshoot to market her new lingerie line.
She said shared that particular picture on her Instagram page on Tuesday September 16, 2015 and someone decided to copy it and tag it as a leaked naked picture. She said was in in a lingerie but pose made it look like she was naked.
Moesha believe she has a beautiful body and can't hide show so she has to flaunt it.
"It is not as if I do those poses or wear dresses to bring my curves out intentionally, the truth is that, there is nothing I can do about it", I can't hide these curves and if you can't hide something, the best thing to do is to appreciate and flaunt it just as the Bible says that everything God created is beautiful", she told Graphic Showbiz.
Moesha said she sees her body as a work of arts and looks more beautiful without any cloths on and doesn't see why when a slim model takes photos in bikini or lingerie it is considered arts but when a curvy or bigger lady does same people call it trashy.
"Art is what not what you see but what u make others see".
"Beauty illuminates the soul -the unclothed".
"Why is that when a slim model does an implied nude shoot is considered art but when a bigger or curvy does same it's considered trashy???" this is how she captioned three different photos shared on Instagram from the photoshoot.
Moesha who is a graduate of the University of Ghana, Legon where she studied Theatre Arts, has played different roles in movie such as; A Sting in a Tail, Die With Me, Blood line, Vi times, Yvonne's Tears, Hostage, Vultures of Horror, The Last Part and Mysterious Girls.
She disclosed that it is boudoir photography and the theme of the shoot was "Bedroom diaries" and she has released exclusive photos to Nkonkonsa.com to prove that it was professional photo shoot and not leaked naked pictures, adding that is about to shoot produce her first movie.
Checkout Moesha new lingerie photos below: